TVS1320 4Runner 4.0L Supercharger System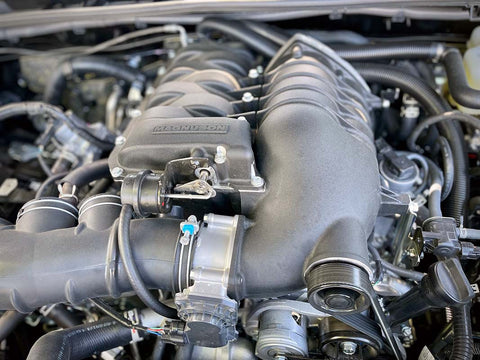 TVS1320 4Runner 4.0L Supercharger System
Description:
Give your 4Runner the power of a V8 with the TVS1320 Supercharger system! This kit includes everything you need from the hardware to the Magnuson calibration for the ECU. Engineered specifically for the 1GR-FE 4.0L 6, this system delivers 30% MORE HORSEPOWER than stock and with an additional 28% MORE TORQUE output at just 6psi of boost. That's more than 335hp and 345lb-ft at the crank!
This system was developed to be a direct bolt on kit with minimal downtime, and straightforward installation. An enthusiast with basic tools can install the system in a weekend, or about a day for an experienced installer. The TVS1320 also looks and fits like OEM, almost like it belongs there. With no cutting or welding, it's also easily reverted to stock. The supercharger itself is maintenance free- pre-filled and sealed, nothing to check or top off for the lifetime of the engine.
At Magnuson, we only use the highest quality components in our supercharger kits. Everything you need to supercharger your 4Runner is included, right down to detailed step-by-step installation instructions. Order yours today and unleash the power of a Magnuson Supercharged 4Runner!
30% hp & 28% lbs-ft increase at crank on stock truck
Magnuson Calibration and Handheld Installer Device Included
High-efficiency intercooler system for maximum charge air cooling and sustainable performance
All hardware required for installation is included
Proven maintenance-free supercharger technology. No added complexity of external supercharger oil cooler/heaters for extreme climates.