Radium Engineering Fuel Filter -10AN, 12 Micron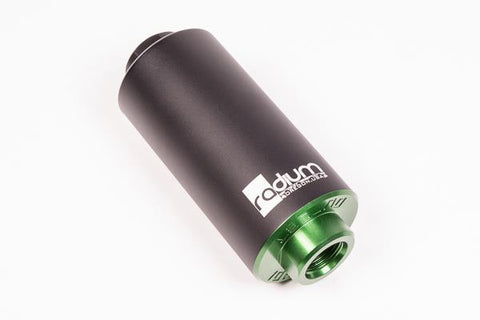 Radium Engineering Fuel Filter -10AN, 12 Micron
Description:
The Radium Engineering high flow fuel filter has a 3 piece body that is CNC machined from 6061 aluminum and Type-II anodized for maximum corrosion resistance. Both removable end caps feature large -10AN ORB female threaded ports for high flow plumbing.
 -10AN IN and OUT
The fuel filter comes preassembled with Viton O-ring seals for all fuel types including gasoline, diesel, methanol, ethanol, and alcohol blends such as E85. High fuel pressures < 150psi can safely be used with negligible pressure drop.
The filter features a large 4.2"x1.75" element maximizing flow without sacrificing filtration. The filter design allows for flexibility when selecting element material. Because of this, the filter can be use in any part of the fuel system. Please select the element that matches the specific application.