MP62 Toyota 5VZ-FE 3.4L V6 Supercharger System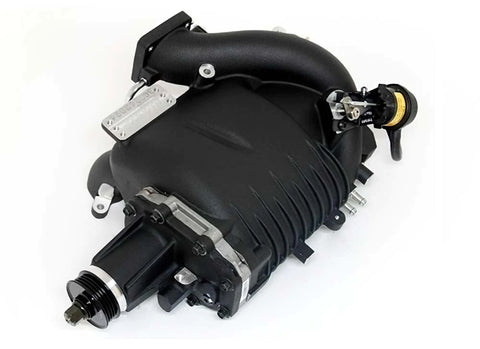 MP62 Toyota 5VZ-FE 3.4L V6 Supercharger System
Description:
Give your 4Runner, 100 and Tundra's 5VZ-FE V6 the power it deserves with the Magnuson MP62 Supercharger System. Delivering a 25% increase in both horsepower and torque to the crank, giving you the power to have fun offroad, haul that heavy load or just get a few more jollies out of daily driving. To put that in numbers, that's a 47hp and 55lb-ft increase over the baseline 190hp/220lb-ft. This complete system integrates the intake manifold and supercharger into a one-piece-design, which eliminate potential leak points without sacrificing key airflow design characteristics. The compact design allows it to easily fit under the hood without any modifications and lends to its like-factory appearance. Enhancing airflow, the intake runners use a tapered design and a larger plenum.
Designed to be as painless as possible, this supercharger system makes it easy to go forced induction from SMOG to the nuts and bolts. This system is a direct bolt on that can be fitted with just basic hand tools in a weekend by an enthusiast, and a pro can do it in a day. On top of that, this system is fully 50 state legal with a CARB E/O. To enhance efficiency, the MP62 uses a bypass valve system which nearly eliminates parasitic loss when cruising, so you get the added benefit of close to OEM fuel economy.
Priced extremely reasonably, this system offers great bang for the buck, because a positive displacement roots supercharger doesn't have any of the lag of a turbo, you've got instantaneous power and torque across the rev-band. With Toyota-worthy reliability, ease of installation, reasonable price tag and V8 power, what are you waiting for?
25% hp & 25% lbs-ft increase at the crank in standard kit form on an unmodified truck
CARB certification (D-488-42)
Direct bolt on design allows for one day professional installation
Full color instructions allow an enthusiast to install with basic tools over a weekend
Instant Throttle Response with plenty of Below The Curve Torque
Also available for other 5VZ-FE platforms, may require custom calibration.