LT376/535 Wet-Sump 6.2L 535HP Crate Engine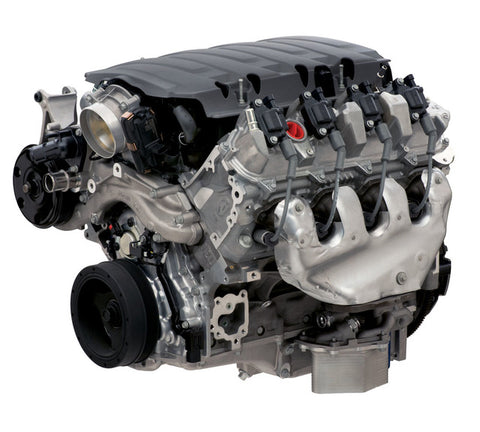 LT376/535 Wet-Sump 6.2L 535HP Crate Engine
Description:
Chevrolet Performance engineers have wasted no time digging into the new LT engine family to mine more power – and they've delivered it in the LT376/535.
It builds on the technologies and capability of the LT1 6.2L offered in the Corvette Stingray and Camaro SS, extending them with CNC-ported heads and our high-lift LT1 Hot Cam to deliver 535 naturally aspirated horsepower. It also employs the production direct injection fuel system, which enables more precise fuel delivery that supports a high 11.5:1 compression ratio which translates into big power.
Chevrolet Performance's inclusive crate engine kit includes the engine assembly with a production intake manifold, throttle body assembly, ignition coils, water pump, balancer and more.
SOLD OUT- CALL FOR UPDATED INVENTORY

Believe us: The LT376/535 loves to rev and achieving those 535 horses is an exercise in exhilaration. Give your project this high-tech heart transplant and enjoy the ride!
Specifications:
Power: 535 HP @ 6300 RPM, 470 ft. lbs. of torque @ 4600 RPM
Displacement: 376 CID, 6.2L
Bore x Stroke: 4.065″ x 3.622″
Compression Ratio: 11.5:1
Recommended Fuel: 92 Octane
Block: Cast Aluminum with 6 bolt cross bolted main caps
Crankshaft: 8-bolt Forged Steel
Connecting Rods: Forged Powdered Metal Steel
Pistons: Hypereutectic Aluminum
Camshaft: Billet Steel Hydraulic Roller Tappet
Cam Lift: .577″ Intake / .577″ exhaust
Cam Duration @ .050″: 228 deg. Intake / 248 deg. Exhaust
Lobe Separation: 116.5
Cylinder Heads: CNC Ported Aluminum Rectangular Port, Direct Injected
Combustion Chamber: 58cc
Valves: 2.130″ Intake/ 1.590″ Exhaust
Rocker Arms: Cast Roller Trunnion, 1.81:1 Ratio
Balance: Internal
Reluctor: 58X
Maximum GM Recommended RPM: 6600
Engine Includes:
Fully GM assembled long block
Ignition Coils, Plug Wires and Spark Plugs
Oil pump, pick-up and wet sump oil pan
Exhaust Manifolds
Intake, Injectors and Throttle Body
High Pressure Fuel Pump (installed)
14″ Auto Trans Flexplate
Harmonic Balancer
Front timing cover
Aluminum Water Pump
Oil Filter
Passenger Side RH Oil Dipstick and Tube