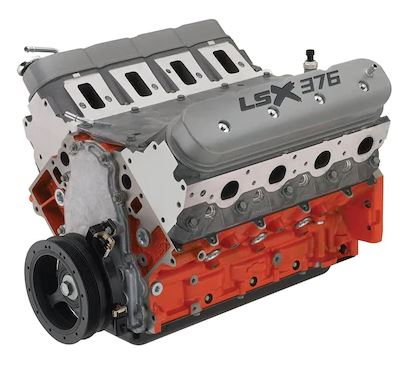 LSX B8 Long Block
Description:
Chevrolet Performance CPP LSX 376-B8 long block crate engine assemblies allow you to build boost on a budget. They utilize LSX Bowtie standard-deck blocks, and add blower-friendly 9:1 forged pistons combined with the LS3 high-flow, rectangular-port heads. The LSX376-B8 is designed for lower-boost applications, up to about 8 lbs. That's suitable for most supercharger and turbo kits that are designed to be used with production-based applications.

Chevrolet Performance CPP LSX 376-B8 long block crate engine technical specs:

* Engine type: LSX-Series Gen IV small block V8
* Displacement: 376 c.i.d.
* Bore x stroke: 4.065 x 3.622 (103.25 x 92mm)
* Block: LSX cast iron with 6-bolt cross-bolted main caps
* Crankshaft: Nodular iron
* Connecting rods: Powdered metal
* Pistons: Forged aluminum
* Camshaft type: Hydraulic roller
* Valve lift: .551 intake/.522 exhaust
* Camshaft duration (@ 0.050 in.): 204 degrees intake/211 degrees exhaust
* Cylinder heads: LS3 rectangular port with "as-cast" 68cc chambers 
* Valve size: 2.160 intake/1.590 exhaust
* Compression ratio: 9:1
* Rocker arms: Investment-cast roller trunnion
* Rocker arm ratio: 1.7:1
* Recommended fuel: Regular pump
* Maximum recommended rpm: 6600
* Reluctor wheel: 58X
* Balanced: Internal
*Oil pan not included.
476 hp @ 5900 rpm on a Non-Boosted application with OEM LS3 intake manifold!
Long Block comes with LSA Crank pulley. LSA water pump, alternator, power steering is needed to match with the crank pulley. Corvette serpentine drive also matches the LSA pulley if running NA.      | Most LS/LQ Accessory drive will also bolt up to the block.