Griptec LT4 Camaro/ CTS-V V3 Upper Pulley W/ Hub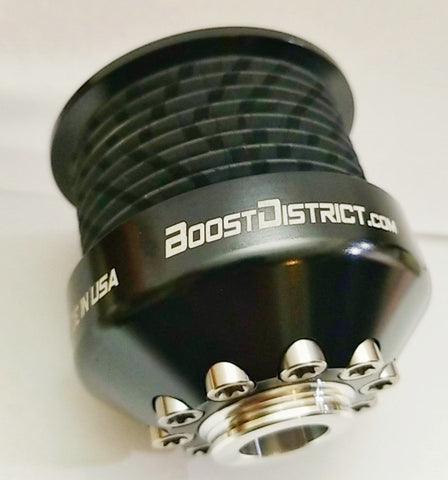 Griptec LT4 Camaro/ CTS-V V3 Upper Pulley W/ Hub
Description:
This Ultra Lightweight Pulley Upgrade for ZPE Pulley Hub system. (No machining of the snout needed) Fits factory GM LT4, this 10 Bolt Pulley is designed to be paired with our ZPE MK II HUB.
The Pulley is made from billet 7075-T6 aerospace grade aluminum. Stronger and harder than 6061 T6. This pulley is equipped with GripTec® a micro machining technology. This technology allows the maximum grip force to be applied to the component and belt without damaging your belt. You wont have to worry about belt slip with GripTec®. Get the maximum performance out of your supercharger. Featuring our Exclusive GripTec® V2 level grip,
Product Features
GripTec® Level V2
LT4 Camaro and CTS-V3 spacing
8 Ribs
7075-T6 Aluminum Material
Type III Anodized Black Finish
HUB AND BOLTS INCLUDED!