FIC Clinic 540cc INJECTORS (LS3/LSA/LS7/LS9/LS2)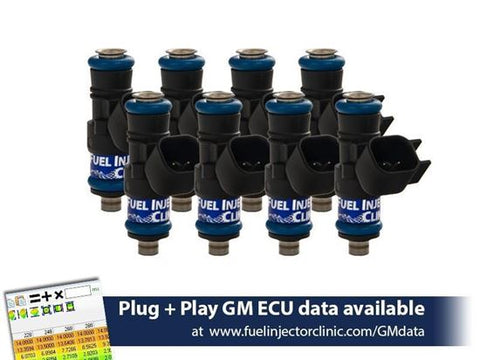 FIC Clinic 540cc INJECTORS (LS3/LSA/LS7/LS9/LS2)
Description:
LS3, LS7, LSA, L76, L92, L99 Fuel Injector Clinic Injector Set: 8 x 540cc/min (52lbs/hr) at 3 bar (43.5psi) fuel pressure and 60lbs/hr (625cc/min) at OE 58psi (4 bar) fuel pressure. Saturated / High Impedance Injectors. Drop in plug fitment!
These injectors utilize the latest technology and provide great linearity and short pulse width repeatability. 
Plug and Play GM ECU Data Available at http://fuelinjectorclinic.com/GMData
Fuel Injector Clinic injector sets are precisely flow matched to within 1%. Each injector within each set is individually numbered and results for each injector are listed on a detailed flow sheet included with the set. 

Fuel Injector Clinic injectors are flow tested and rated at 43.5psi (3Bar) at 90 degrees F fuel temperature using CF-16B calibration fluid.

Superior short pulse width control and tight manufacturing tolerances make these injectors easy to tune and provide great drivability.