FIC Clinic 1650cc INJECTORS (LS3/LSA/LS7/LS9/LS2)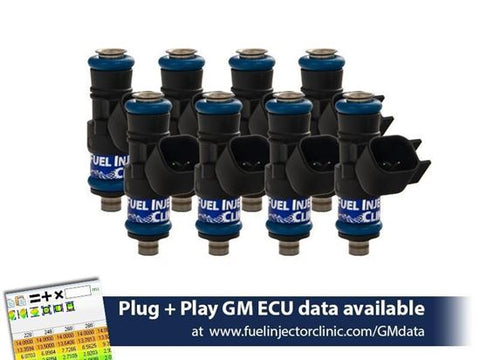 FIC Clinic 1650cc INJECTORS (LS3/LSA/LS7/LS9/LS2)
Description:
LS3, LS7, L76, L92, L99 Fuel Injector Clinic Injector Set: 8 x 1650cc Saturated / High Impedance Ball & Seat Injectors. Utilizing the latest injector technology and featuring state of the art matching with Data Match Technology. This injector set features easy to install, drop-in fitment with the factory style connector – no plug conversion required!
Plug and Play GM ECU Data Available at http://fuelinjectorclinic.com/GMData
Fuel Injector Clinic`s 1650cc/min high impedance injector is the largest high impedance injector compatible with all race fuels and has excellent idle performance in street driven cars while still providing enough fuel to support higher horsepower output on both E85 and gasoline.

The 1650cc high impedance injector can be used with any fuel type based on the stainless alloy valve construction. It is compatible with pump gasoline, E85, Q16, VP Import, FTW and other MTBE oxygenated race fuels!
This injector set is precisely matched using Fuel Injector Clinic's proprietary Data Match Technology. Each injector is individually serial numbered and the results are provided on the Data Match Sheet providing the most complete flow matching and latency value information available in the industry today.

Fuel Injector Clinic injectors are flow tested and rated at 43.5psi (3Bar) at 120ºF (49°C) fuel temperature using 93 Octane, 10% E pump gasoline.

Superior short pulse width control and state of the art matching make these injectors easy to tune and provide great drivability.