FAST LS7 LSXR 102mm INTAKE MANIFOLD - BLACK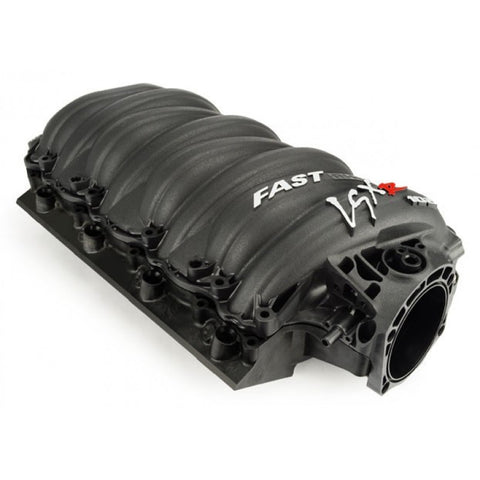 FAST LS7 LSXR 102mm INTAKE MANIFOLD - BLACK
Description:
FAST LS7LSXR 102mm SQUARE PORT INTAKE MANIFOLD
The Fast 102mm Black Intake Manifold is proven to deliver increased performance without compromising bottom-end drivability or high RPM power. 
FAST™ engineers teamed up with airflow specialists at RHS to develop a polymer intake manifold for rectangular port GM LS7 engines. Testing on a modified LS7 engine with a Big Mouth 102mm Throttle Body produced gains of 31.3 horsepower and 26.6 ft/lbs of torque at the flywheel over the stock intake. 
Constructed from the same advanced polymer material as the LSX™ 92mm Intake Manifold, the LSXR™ offers a host of benefits over aluminum aftermarket intakes, including lighter weight, increased strength and improved heat dissipating characteristics.
While the LSXR™ features a 102mm air inlet that is perfectly suited to the FAST Big Mouth 102mm Throttle Body, it can also be used with stock or aftermarket 90mm or 92mm throttle bodies. Other features include integrated nitrous bungs and perfect bolt-on fitment that allows the use of factory accessories without modification or clearance concerns.
Black version of original LSX™ intake w/ 92mm opening & added refinements

Includes stainless steel bolts, threaded insert throttle body mounts & mounting hardware

Incorporates highquality polymer materials, which resist "heat sink" effect of aluminum

Maximizes potential of other popular engine performance upgrades such as cylinder heads

Improved throttle body sealing flange & o-ring gasket

50 state legal under C.A.R.B. E.O. #D-279-9


THROTTLE BODY OPTIONS
FAST™ Big Mouth Throttle Body* (CNC Billet)
FAST™ Big Mouth LT Throttle Body* (Black Powder Coated)
OEM/Stock 3-Bolt Throttle Body w/ FAST™ Adaptor Plate
OEM/Stock 4-Bolt Throttle Body
FUEL RAIL OPTIONS
FAST™ Anodized Billet Fuel Rail Kit
OEM/Stock LS1/LS6 Fuel Rails