FAST 92MM LS1/LS2/LS6 INTAKE MANIFOLD- Black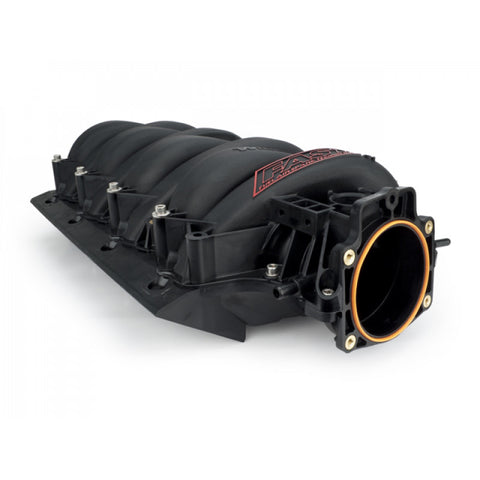 FAST 92MM LS1/LS2/LS6 INTAKE MANIFOLD- Black
Description:
LSX™│For Cathedral Port Heads (LS1, LS6 & LS2)
The Fast 92mm Black Intake Manifold is proven to deliver increased performance without compromising bottom-end drivability or high RPM power. For both street and racing applications, the new black intake manifold is an easy bolt-on installation for GM Gen III (LS1, -2 & -6) engines and is designed to work with the FAST™ Big Mouth Throttle Body™.
The new FAST™ LSX™ 92mm Black Intake Manifold maintains the performance gains achieved over stock intake manifolds with no loss in drivability or low RPM torque. While the new stylish, black intake manifold delivers terrific performance right out of the box, it can be ported by the customer for even more flow. As requested by previous LSX™ customers, the intake features the added benefits of corrosion-free stainless steel assembly bolts, an improved throttle body sealing flange and o-ring gasket and threaded insert throttle body mounts that provide increased durability.
Black version of original LSX™ intake w/ 92mm opening & added refinements

Includes stainless steel bolts, threaded insert throttle body mounts & mounting hardware

Incorporates high-quality polymer materials, which resist "heat sink" effect of aluminum

Maximizes potential of other popular engine performance upgrades such as cylinder heads

Improved throttle body sealing flange & o-ring gasket

50 state legal under C.A.R.B. E.O. #D-279-9


THROTTLE BODY OPTIONS
FAST™ Big Mouth Throttle Body* (CNC Billet)
FAST™ Big Mouth LT Throttle Body* (Black Powder Coated)
OEM/Stock 3-Bolt Throttle Body w/ FAST™ Adaptor Plate
OEM/Stock 4-Bolt Throttle Body
FUEL RAIL OPTIONS
FAST™ Anodized Billet Fuel Rail Kit
OEM/Stock LS2 Fuel Rails w/ FAST™ Adaptor Kit
OEM/Stock LS1/LS6 Fuel Rails