Chevrolet Performance Gen V LT5 Accessory Drive Systems 19417240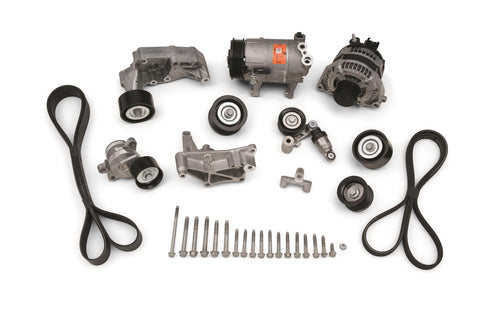 Chevrolet Performance Gen V LT5 Accessory Drive Systems 19417240
Description:
Chevrolet Performance Gen V LT5 accessory drive systems will finish your Gen V LT5 6.2L dry sump engine with a factory fit and appearance. These all-inclusive accessory drive kits save you time verses having to collect each component separately—and you can be assured they will work well together. Each of these Gen V LT5 accessory drive systems include alternator, tensioner, A/C compressor, S/C belt, pulleys, bolts, and instruction sheet.
Pulley Style:Serpentine
Crankshaft Pulley Included:Yes
Water Pump Pulley Included:Yes
Power Steering Pump Reservoir Included:No
Power Steering Pulley Included:No
Power Steering Brackets Included:No
Alternator Pulley Included:Yes
Alternator Fan Included:No
Alternator Brackets Included:Yes
Air Conditioning Pulley Included:Yes
Air Conditioning Bracket Included:Yes
Idler Included:Yes
Idler Brackets Included:Yes
Tensioner Included:Yes
Tensioner Cover Included:No
Hardware Included:Yes
Belt Included:Yes
Quantity:Sold as a kit.