8QT 2020+ C8 Corvette 0w-40ESP Motor Oil +Filter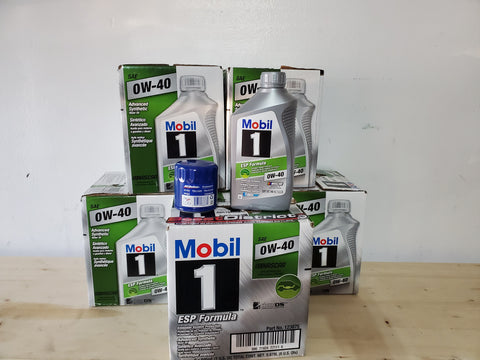 8QT 2020+ C8 Corvette 0w-40ESP Motor Oil +Filter
Description:
Oil Type:Synthetic
Oil Weight:0W40
Oil Volume:1 quart
ZDDP Enhanced:No
API Rating:SN
Quantity: Sold as a set of 8. C8 Corvette Requires 7.5 Qt
Oil filter option is OEM AC Delco Oil filter PN 12696048
Notes:Primary fluid recommendation for General Motors LT1,LT2, and LT4 performance V8 engines requiring a dexos2 approved fluid.
Mobil 1 ESP motor oil offers protection for gasoline and diesel engine emission systems, including diesel particulate filters. Featuring Emission System Protection (ESP), this synthetic oil will help prolong the life and maintain the efficiency of your vehicle's emission system. It's formulated to be fully compatible with passenger car diesels that have the latest Diesel Particulate Filters (DPFs) and gasoline catalytic converters. Outstanding performance and protection is available by utilizing the Mobil 1 ESP motor oil formulated for your application.