BoostDistrict TVS2650 Belt full Drive FEAD Including Accessories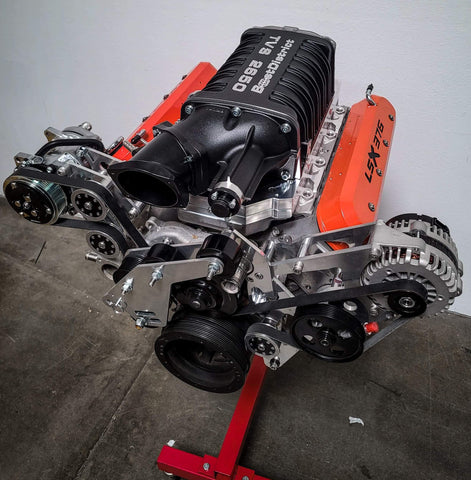 BoostDistrict TVS2650 Belt full Drive FEAD Including Accessories
Description:
BoostDistrict teamed up with LSXConcepts to provide this full accessory drive system for an easy and convenient way to finish your engine. These all-inclusive kits save you the time and money of sourcing the components individually. These FEAD kits bolt right on to your engine for a compact fit and appearance.

Accessory drive kits include:
Tuff Stuff Performance - 1200 PSI 3GPM Power steering
145 AMP - 4 Pin Connector Alternator
Sanden High Mount AC Compressor
Billet Idler pullies with Raw/Black combination
------
* Brackets 
* Bolts 
* Tensioners 
* Pulleys 
* Belts 
* Alternator 
* Power steering pump 
* Instructions
Crank pulley and Water pump not included but could be added on the kit with the options below.