BoostDistrict 1000HP HotRod Engine/Supercharger Package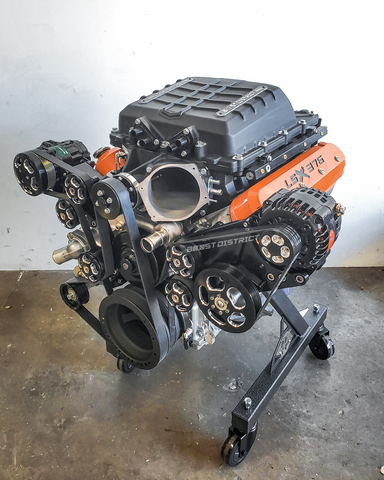 BoostDistrict 1000HP HotRod Engine/Supercharger Package
Description:
Boost District Combined forces with GM Performance to bring you this 1000hp  LSX based B15 paired with our BoostDistrict Gen2 TVS2650 with ~15psi Boost for your Classic Car/Hotrod, Gen 4 LS project.
This Package includes:
LSX B15 Crate Engine

BoostDistrict TVS2650 Supercharger kit

Fuel Injectors With  Billet AN rails

Optional:

3 row Belt Drive kit (Alternator, Water pump, Power Steering, Tensioner, Supercharger drive)
LSX376-B15 Tech Specs
Engine Type: LSX-Series Gen-IV Small-Block V-8
Displacement (cu. in.): 376 (6.2L)
Bore x Stroke (in.): 4.065 x 3.622 (103.25 x 92 mm)
Block (P/N 19260095): LSX cast-iron with six-bolt, cross-bolted main caps
Crankshaft (P/N 12603616): Forged steel
Connecting Rods (P/N 12604857): Forged powdered metal
Pistons (P/N 19259381): Forged aluminum
Camshaft Type (P/N 12638426): Hydraulic roller
Valve Lift (in.): 0.560 intake / 0.555 exhaust
Camshaft Duration (@0.050 in.): 210° intake / 230° exhaust
Cylinder Heads (P/N 19201805): LSX-LS3 rectangular port; with "as cast" 68-cc chambers/six-bolt attachment
Valve Size (in.): 2.160 intake / 1.550 exhaust
Compression ratio: 9.0:1
Rocker Arms (P/N 12669995 int): Investment-cast, roll trunnion
Rocker Arms (P/N 12681275 exh): Investment-cast, roll trunnion
Rocker Arm Ratio: 1.7:1
Recommended Fuel: Regular pump
Maximum Recommended rpm: 6600
Reluctor Wheel: 58X
Balanced: Internal
On some instances- depending on location and liftgate services (if required), additional shipping cost might be added on the order. Contact us to get an exact shipping quote for your location.