ARH 2009-15 Cadillac CTS-V 1 7/8" LT Headers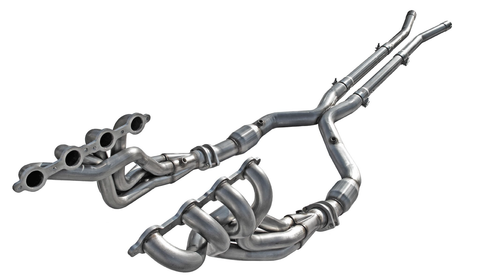 ARH 2009-15 Cadillac CTS-V 1 7/8" LT Headers
Description:
American Racing Headers - 1 7/8" x 3" Headers - 09-15 CTS-V (LSA)
CTS-V Owners have an opportunity to take that built in HP to another level with ARH's 100% U.S. made 304 S/S header system.
Designed to free up some serious HP by eliminating what's arguably one of the most restrictive factory exhaust systems ever, ARH CTS-V systems will deliver the performance you'd expect, with the quality ARH is know for.
The system comes with 1-7/8"or 2"  primaries with 3/8" think flanges and hand ported inlets, our trademark merge collectors with scavenger spikes, a 3" x-pipe that includes ARH's 49 State Legal severe duty 200 cell metallic substrate cats and connection pipes that route back to the rear axle. The installation is simple and straight forward. Minor Fabrication is required to adapt the system to factory mufflers but everything is supplied to make the job a snap. 
Other fine products