6th Gen Camaro ZL1 Innovators West Crank pulley + Ring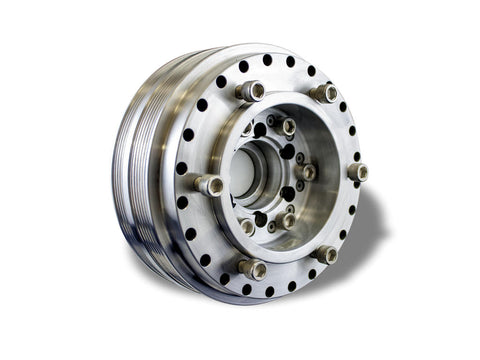 6th Gen Camaro ZL1 Innovators West Crank pulley + Ring
Description:
Innovators West now offers a Harmonic Damper for the 2016-2018 Cadillac CTS-V and 2016-2018 Gen 6 ZL1 Camaro. The damper was designed with an adapter plate that accepts the interchangeable crank pulleys available below.
Dual Keyway Option:
The double keyway option requires that the factory or aftermarket crankshaft be removed from the engine and a second keyway cut into the snout of the crankshaft. DO NOT run a double keyed damper on a crankshaft without the double keys. Failure to the damper hub can happen without the supporting key in the broached keyway slot. The dual keyway option is for Supercharged or Extreme Duty Applications (typically over 750 rwhp).
Super Duty hub verison:
The super duty hub has increased material for supercharged applications.This increased material helps to protect the hub from cracking in high load applications. The super duty hub is recommended for supercharged applications making over 750 rwhp. Includes matching timing cover oil seal.
Weight: NA
Diamter: Metco Drive Rings
Exceeds SFI 18.1 standards and is marked on front with SFI Sticker, and on the rear with SFI number stamped into unit.
Works with

 

Metco Motorsports

 

& Interchangeable Pulleys