LS427/570 Wet Sump 7.0L 427 C.I.D. 570 HP Crate Engine Assembly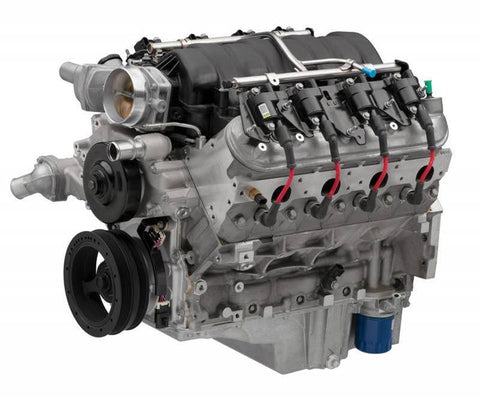 LS427/570 Wet Sump 7.0L 427 C.I.D. 570 HP Crate Engine Assembly
Description:
2 IN STOCK as of 1/25/2022
Chevrolet Performance's new LS427/570 builds on the track-bred performance of the LS7 engine and enhances it in two important ways: More power and easier installation. A new, higher-lift camshaft helps it produce 570 horsepower and 540 lb.-ft. of torque—increases of 65 hp and 70 lb.-ft. over the production-based LS7 crate engine. Additionally, a new wet-sump oiling system facilitates easier and less costly installation, because the supporting components for the production-based LS7's dry-sump system are not required.
Product highlights:
• Based on the production LS7 crate engine
• Unique high-lift hydraulic roller camshaft with.591-in. intake/ .590-in. exhaust lift
• Unique high-rate valve springs
• F-body wet-sump oil pan and specific wet-sump oil pump
• Low-profile LS7 EFI intake manifold with fuel rails, injectors and throttle body installed
• CNC-ported cylinder heads featuring 2.2-inch titanium intake valves
• Use with LS427 Engine Controller P/N 19420000 (sold separately)
• Not intended for marine applications
Specifications:
Power: 570 HP @ 6200 RPM, 540 ft. lbs. of torque @ 4800 RPM
Displacement: 427 CID, 7.0L
Bore x Stroke: 4.125" x 4.000"
Compression Ratio: 11:1
Recommended Fuel: Premium Pump
Block: Cast Aluminum with 6 bolt cross bolted main caps
Crankshaft: Forged Steel
Connecting Rods: Forged Titanium
Pistons: Hypereutectic Aluminum
Camshaft: Steel Hydraulic Roller Tappet
Cam Lift: .591" Intake / .590" exhaust
Cam Duration @ .050": 227 deg. Intake / 242 deg. Exhaust
Lobe Separation: 116 Degree
Cylinder Heads: CNC Ported Aluminum LS7 style ports
Combustion Chamber: 70cc
Valves: 2.200" Intake/ 1.610" Exhaust
Rocker Arms: Cast Roller Trunnion, 1.8:1 Ratio
Balance: Internal
Reluctor: 58X
Maximum GM Recommended RPM: 7000

Engine Includes:
• Fully GM assembled long block
• Ignition Coils, Plug Wires and Spark Plugs
• Wet Sump F-body oil pan
• Intake, Injectors and Throttle Body
• Harmonic Balancer
• Front timing cover
• Aluminum Water Pump
• Oil Filter

Warranty:
General Motors limited 2 year / 50,000 mile parts & labor warranty. Click on Document tab above for full details.